This article contains information about Ace Attorney media that has been released only in Japan.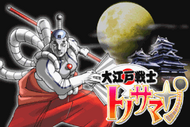 The information in this article comes from a game, demo, or other media that has been released in Japan, but not in any predominantly English-speaking country. The subject of this article has been officially revealed for English versions of this media. English versions of this content are only available through unofficial translations. More information on this can be found here.
If you have personal experience with the item of media in question, you can help the Ace Attorney Wiki by improving on this article. Please heed the manual of style when adding information.
William Petenshy was a fancily dressed man who was seen having an argument with Decago Mieterman outside of Sōseki Natsume's residence during Ryūnosuke Naruhodō's investigation into Viridian Green's attempted murder.
Personality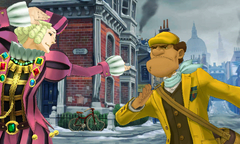 Petenshy wore flashy pink clothing that looks remarkably out of place when compared to those around him. He seemed to have a very high sense of self and frequently references Shakespeare in his speech, as evinced by his calling others "Horatio" and reciting the "sound and fury" soliloquy after being awakened from his poisoning. He acted very antagonistically toward Mieterman.
Name
The names of Petenshy and Decago Mieterman are not given during Dai Gyakuten Saiban: Naruhodō Ryūnosuke no Bōken. However, the title of "Mysterious Man A" is given to Petenshy in the game's artbook, while Mieterman is referred to as "Mysterious Man B".[1]
His surname comes from a Japanese word meaning "crook" (ペテン師).
References
↑ riku7se. "So I just got the DGS artbook in today" "Dai Gyakuten Saiban: Liveblog and Info" tumblr. Retrieved on 2016-12-08.
Pleeeeeeeease expand meeeeeeee!
This article is a stub or is otherwise incomplete. You can help the Ace Attorney Wiki by expanding it.